Artmisto has completed the project of revitalization of stone plastic exposition of the Dnepropetrovsk Historical Museum
---
Artmisto creative team has completed a project to revitalize the stone plastic exposition at the Dnipropetrovsk Natioinal Historical Museum.
The exposition is located in a square next to the museum and contains about 50 figures from different ages - from the Neolithic to the Middle Ages. This is about half of the museum's collection. The square was built 40 years ago and has never been restored since. The territory of the exposition was particularly badly damaged. The limestone slabs was partly destroyed and with numerous traces of vandalism.
Artmisto creative team developed a reconstruction project in collaboration with the museum. The wall was covered with a new layer of protection materials and a special drawing composition was applied on background by the artists of Artmisto. This image was developed in close cooperation with the specialists of the museum.
The patterns on image takes the viewer to the Polovtsian era. Their statues are the most numerous in the exposition. The Polovtsian culture itself is well researched due to its numerous artifacts. This is, first and foremost, a shamanic culture, closely linked to the symbolism of life in the steppes, where the entire life cycle of the Polovtsy took place. To better understand it, let's try to absorb the world of that era - from birth to death.
It is a land that extends to all sides of the world. Above is the sky and the sun that give life. Rivers flow along the steppe - life itself. These symbols are reflected in embroidery and jewelry. An image that has been transferred from one of these ornaments and is the main element of the drawing. Here we see the sun in the form of round ornaments and square crosses. Square shapes are an image of the earth. Symbolic images of flowers, animals, rivers. And it is the embodiment of life and death in the form of an upward spiral.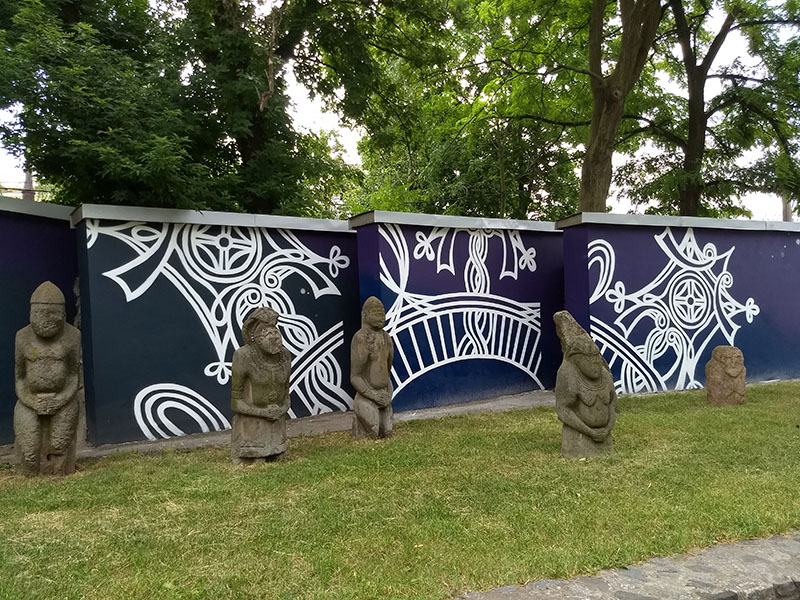 The drawing itself is designed to attract the attention of passers-by from afar and not distract from viewing the sculptures, as if dissolving when the viewer is in the square. In doing so, the dark background of the drawing makes the articles more contrasting and helps to focus.
To get a better idea of ​​the history of each exhibit, the organization has developed a dedicated audio guide. You can listen to it with your regular smartphone by scanning the code posted on the information board. Choosing one of three languages: Ukrainian, Russian or English, the visitor dives into a fascinating excursion that will lead him simultaneously through the entire exposition and through the numerous epochs and cultures that inhabited the region.
In the future, the museum plans to add a night illumination of the figures.